Hakkeling Interim B.V.
project management, data conversion & erp
At Hakkeling Interim B.V. we manage data migration projects with the greatest of care. The proven traditions of SAP and JD Edwards are deeply ingrained in the way we work. To this we add our personal touch, thus creating a quintessential synergy between amiable and down-to-earth.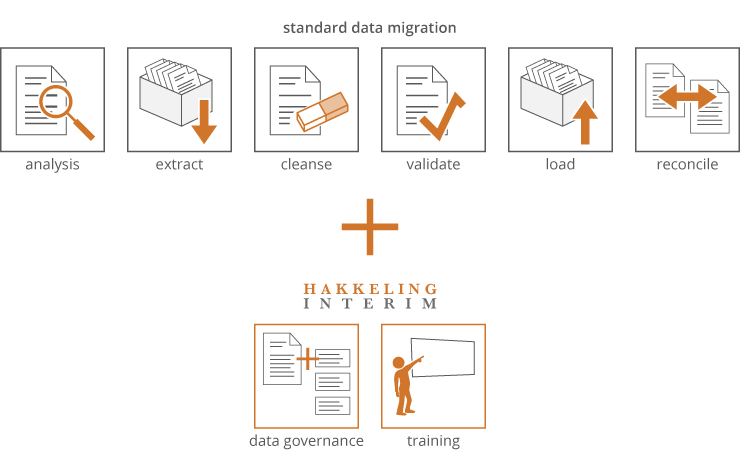 My level-minded attitude and personality can be found in my work as well. Master data governance, data migration projects and project management have no secrets from me – my approach is heartfelt, from an authentic, informal Northern Netherlands point of view.
An extra dimension is required when managing migration in the (large-scale) implementation of ERP, SAP and JD Edwards, as these operations involve specific experience and insights, even at a personal level. Not only do you need the data in your organization transferred properly and made clearly visible, you also want to make people enthusiastic – and to keep them that way.
Although it may seem cold and aloof, this work is always about people and made-to-measure solutions. Migrating data from old to new systems or sets (even from the same package) always requires devoted attention. This is labour-intensive, especially when information is enriched with metadata. This is when Hakkeling Interim's unique capabilities are called for.
I am well versed in custom configurations and the work methods involved. Speaking of work methods, at Hakkeling Interim B.V. we strongly believe in an integral approach, as opposed to every department working with its own data sets. Data is never dispersed or disintegrated.
Together, we map out the entire organization, for, only then, will we know how to migrate successfully.
At Hakkeling Interim B.V. we know about setting up and managing master data governance like no other. This enables us to create the framework needed for the reliable processing of information, both during and after migration.
Hakkeling Interim B.V. offers you:
Control, Migration Management
Quality Control
Cleansing
Metadata Enrichment
Audit Trail
Users Training
Master Data Governance
Working with enthusiasm
Now it's about to get really interesting – once everything has been migrated, set up and implemented, and the people have been trained, because the end users can start working with the new system. Their ability to start up quickly, using the new system, means the workplace will be alive with enthusiasm.
More efficiency, more fun.
Rest assured, you're in good hands with Hakkeling Interim B.V. – reliable partners in the migration of your organization's backbone.
For, data reliability is crucial to your organization's continuity.
"Erik is greatly admired by his colleagues. I, myself, found working with him to be a very valuable experience – even inspiring at times.
His drive, his positive and calm attitude, and his involvement often had a highly positive effect on me."
– Evert-Jan Siderius, Yacht (part of Randstad)